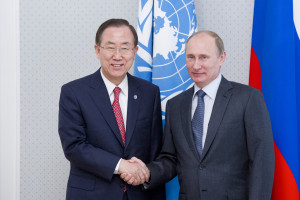 Russian policy experts are mired in doubt over whether any upcoming emission curbing proposals will be adopted by the government after it published long term plans suggesting greenhouse gases could be allowed to climb substantially above current levels.
The world's fourth biggest CO2 emitter last month submitted its INDC to cut emissions to 25-30% beneath 1990 levels by 2030, effectively allowing output to rise as current levels are at least 32% under the 1990 mark.
Policy watchers from business and environmental groups fear that this, coupled with crippling budget cuts, could further set back emission-cutting initiatives in the oil-rich nation, which has made scant progress since the downfall of the Kyoto Protocol's JI mechanism in 2012.
"The INDC is difficult to evaluate, it's the submission to the UN, not a Presidential decree or law, so the status of domestic climate policy is not quite clear …  but it reflects the attitude of some parts of the government," said Anton Galenovich of business association Delovaya Rossiya.
He said the main concern was a clause to include "the maximum possible account of absorbing capacity of forests", which due to Russia's large forested area could absorb huge amounts of greenhouse gases and offset considerable emission growth in other sectors.
This would be "a big step backwards" for Russian climate policy as "it wouldn't require anything from the rest of the Russian economy to limit emissions," said Galenovich, who is executive secretary of a joint working group of the private sector and the Ministry of Economic Development on regulating emissions.
DIPLOMATIC MOVE
Such accounting of LULUCF emissions would allow Russia's emissions to increase 30-38% above 2012 levels, according to a report by Climate Action Tracker, which provides scientific analysis of national climate action from four European research groups.
It called Russia's INDC "inadequate" as a contribution to the global goal of limiting temperature increases to 2C, the lowest of its four INDC ratings.
Alexey Kokorin, head of Russia's energy and climate programme at environmental campaigners WWF, said it was likely the forestry clause was inserted as merely a diplomatic move to reflect the importance of agreeing global standards on land use accounting and the government would not ultimately include it.
"Including LULUCF would be absolutely absurd … I don't see any intention of Russia to do that," he told Carbon Pulse, explaining that several government studies had been produced previously with emission targets similar to that of the INDC but without including LULUCF.
POLICY IMPASSE
Russia's emissions trajectory has been different to most economies, largely because of a 40% drop in the 1990s following the collapse of the Soviet Union.
Its emissions have been rising steadily since then, but are still on track to be 30-31% below 1990 levels in 2030 even if no further policies are implemented, according to Climate Action Tracker.
This suggests Russia wouldn't need to take any further action to meet its INDC goal and even has some leeway to raise emissions from projected levels.
A spokeswoman for the economy ministry told Carbon Pulse that the INDC's voluntary commitments may weaken or delay proposals to meet a national emission target set out in a presidential decree in 2013 of -25% under 1990 levels by 2020. That target did not refer to land use accounting.
"In general, if Russia's obligations are not revised during the Conference of the Parties of the UNFCCC in Paris in December 2015, it will have a "softening" effect on the composition of measures to reduce greenhouse gas and the timing of their implementation (may be postponed to the period 2020-2030.)," she said in an emailed statement.
The government has already held back political action. Over the winter it decided to cut state spending 10% as Western economic sanctions and a big oil price drop slashed budget revenues.
Among the policies suspended due to the budget cuts were energy efficiency funding, to help meet a goal to cut the energy intensity of Russia's economy 40% below 2007 levels by 2020, and a government fund to pay for emission reductions from private sector projects similar to JI schemes under Kyoto.
Russia hosted JI projects that generated over 250 million carbon credits but the government refused to extend its Kyoto commitment beyond 2012 as richer nations limited their credit buying to schemes in very poor countries to encourage more advanced economies such as Russia to pay for more of their own emission cuts.
Despite the experiences under JI, Russia's INDC said the government doesn't intend to use international carbon market mechanisms.
UPCOMING DECISIONS
WWF's Kokorin was optimistic the suspended policies could regain funding once the economy picks up but said it was likely that a proposal submitted by the economy ministry to require big industrial sites to monitor and report their emissions from 2016 would be delayed by a year.
"It's impossible to lobby for more ambition now," he said, adding that companies were seeking to raise the minimum reporting threshold from 150,000 tonnes of CO2e/year to 300,000-500,000.
Delovaya Rossiya's Galenovich said his working group was working with the economy ministry to amend the emission reduction funding plan in ways that would put less of a burden on state coffers.
The ministry spokeswoman said the department will work on new proposals and submit them by May 1.
This could include the government providing loan guarantees or allow banks to offer preferential lending rates to help finance projects.
Galenovich said the ministry was also working on developing new legislation requiring companies from 2018 to use best available technologies to address pollution, for which there was the potential to include requirements covering greenhouse gas output.
For this work the ministry will be without Oleg Pluzhnikov, the official who in the past ten years oversaw Russia's JI implementation and latterly its work on energy efficiency. He left the government at the end of March, the ministry spokeswoman said.
By Ben Garside – ben@carbon-pulse.com