European carbon prices shed 6 cents on Friday but still posted a 1.5% weekly gain after hitting a nine-day high but failing to break through a technical resistance level that has dogged bullish traders this month.
Front-year EUA futures settled at €7.55 on light volume of 8.9 million units after trading up to €7.63 earlier in the session, a cent shy of the €7.64 level that prices have failed to top during multiple attempts over the past fortnight.
"Every time we approach it, the sellers come out," one trader said.
Prices hovered around Thursday's settlement level for much of Friday afternoon, before they sank in the final 30 or so minutes of trade.
"I suppose it became clear that we weren't going to break higher, so a few longs closed out their positions ahead of the weekend," another trader added.
EUAs touched their session low of €7.54 in early trade, but started to climb back following Friday's auction, in which Germany sold 3.2 million spot units for €7.50 each.
The sale cleared 2 cents below market and attracted bids worth 6.9 million units.
Next week will see 11.95 million allowances come to market via government auctions, down from the 15.08 million this week.
EUA trading volume was moderate down the curve on Friday, with more than 3 million units done on the Dec-16s on ICE and over 500,000 on each of the Dec-17s and 18s.
The Dec-15s remain wedged inside a 'pennant' technical formation (see chart below), with the upper band aligned with Friday's top price of €7.63, and the lower band near €7.45.
The spread between the two bands – currently at around 18 cents – is steadily shrinking, and the two bands are poised to intersect on July 8, meaning prices will likely breakout to either side before then.
Carbon's modest gains this week were mainly attributed to speculators buying ahead of a July 6 European Parliament vote over the MSR, defying a bearish signal from dark spreads, which fell to multi-month lows mainly due to dearer coal and a lower euro.
Dollar-denominated coal cargoes for delivery to Europe slipped on Friday, but for most EU utilities this was offset by a weaker euro to leave coal prices at roughly the same price as Thursday.
However, German calendar-year baseload power prices firmed, and combined with softer carbon, it pushed the clean dark spreads to their highest levels since Monday.
Meanwhile, Dec-15 CERs gained a cent to 40 cents on volume of 30,000 units traded on Friday.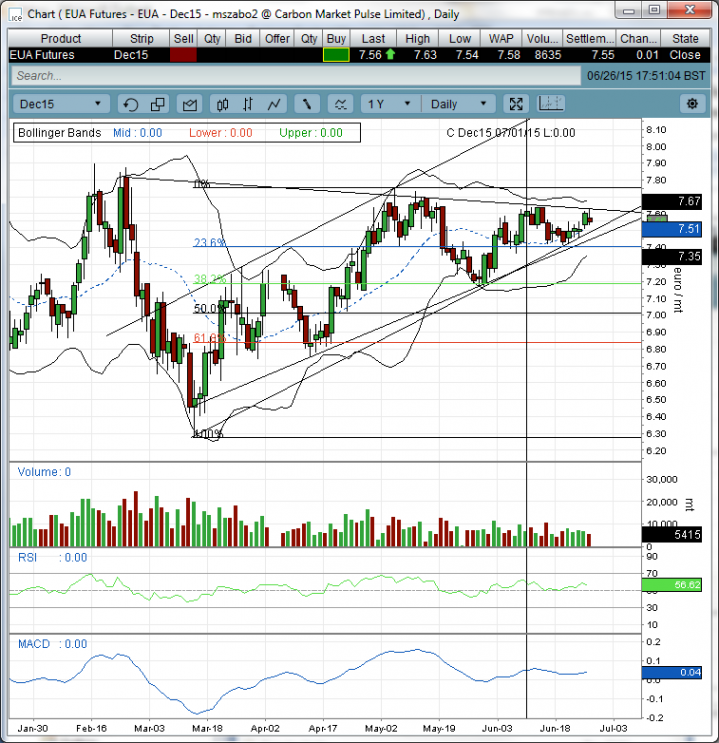 Implied EUA carry trade annual returns
German clean dark spreads
Dec-15
Dec-16
Dec-17
Dec-18
Cal Yr
Price
Wk chg
Spot
0.853%
1.072%
1.168%
1.316%
2016
€3.91/MWh
-0.19
Dec-15
1.192%
1.250%
1.388%
2017
€3.23/MWh
-0.39
Dec-16
1.309%
1.498%
2018
€2.93/MWh
-0.42
Dec-17
1.680%
(based on 36% efficiency factor)
(does not include transaction costs)
By Mike Szabo – mike@carbon-pulse.com