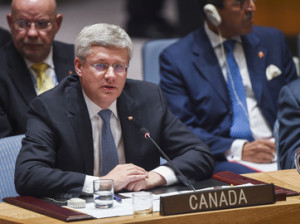 Canada's government earmarked nothing toward fighting climate change in its latest federal budget, days after being criticised by both provincial leaders and the wider international community over its lack of ambition.
Prime Minister Stephen Harper's Conservative government released its final budget ahead of this October's federal election, seeking instead to support Canada's energy sector and balance the country's books by raiding a contingency fund and selling assets.
The 518-page document contained no measures to curb the country's rising emissions, for example by putting a price on carbon.
"If anything, this is a pro-climate change budget," said David Macdonald, an economist from the Canadian Centre for Policy Alternatives, as quoted by Global News.
As examples, he cited tax breaks for the natural gas sector and more funding – $80 million over five years – for the National Energy Board to engage further with Canadians over proposed oil pipeline projects.
Harper has said Canada will publish its INDC before G7 meetings in June, some three months after the Mar. 31 target date for countries to submit their CO2 reduction plan to the UN.
However, he and the federal ministers for natural resources and the environment have all come out recently against putting a price on carbon.
Some provincial leaders have criticised Harper and his government's inaction on climate change in the wake of last week's premiers' summit in Quebec City and the announcement from Ontario that it would launch its own carbon market.
That disapproval was echoed by other countries this week including Brazil and Sweden through the release of their submissions to the UN.
Sweden pointed out that Canada's own projections for 2030 emissions assume that no new government policies will be introduced to reign in CO2 from oil sands extraction – one of the country's largest sources of greenhouse gas emissions.
Canada was also criticised for a lack of transparency in documents it has submitted to the UN, with several countries, including China, asking for more information and data on issues such as LULUCF.
The latest available data shows Canada's emissions rose by 1.5% in 2013 to 726 million tonnes of CO2e.
The country's emissions have dropped 3% since 2005, but stand 18% above 1990 levels.
Harper had pledged to cut emissions to 17% below 2005 levels by 2020, but the country appears way off track towards meeting that target.
By Mike Szabo – mike@carbon-pulse.com