Rich nations channelled $62 billion of climate finance to poorer nations in 2014, slightly over half the amount they committed to provide annually from 2020, according to estimates by the OECD and Climate Policy Initiative.
"There has been significant progress in meeting this goal," said a joint report by the two organisations, adding that $52 billion was channelled in 2013.
"We are about halfway in terms of time and more than halfway there in terms of finance, but clearly there is still some way to go," said OECD Secretary-General Angel Gurría in a statement, referring to the December 2009 commitment.
The study also highlighted that:
Public finance accounted for more than 70% of 2013-14 flows
Mobilised private finance made up more than 25%, export credits the remainder
Over three-quarters was to support mitigation, one sixth adaptation, a small share targeting both
The report by the two think tanks is the first comprehensive attempt to use standard definitions of climate finance agreed by donor nations, and is intended as a status check on these pledges.
It was published ahead of an Oct. 9 meeting of many of the world's finance ministers in Lima, where UN climate chief Christiana Figueres expects donor governments to collectively outline their financial contribution plans – a key element of getting poorer nations to the table at December UN climate talks in Paris.
The Lima meeting is also expected to make headway on globally-agreed definitions of climate finance, which the OECD/CPI report is aimed at assisting.
The developing world is keen to get more guarantees of how cash disbursals will scale up from current public levels and greater transparency on whether the cash is additional, loan-based, includes ways of ensuring environment benefits, and is public or private money.
But Brandon Wu of development NGO ActionAid insisted that the OECD's calculations were misleading because they included full loan and private investment amounts that benefitted actors in rich nations and not the developing countries.
"Counting export credits, the full value of loans, and private investments as climate finance does not serve the needs of people affected by climate change. It only serves the needs of rich country governments that are failing to meet their obligations."
France, Germany and the UK have all announced plans to scale up substantially the amount they channel in an effort to build trust towards striking a Paris deal.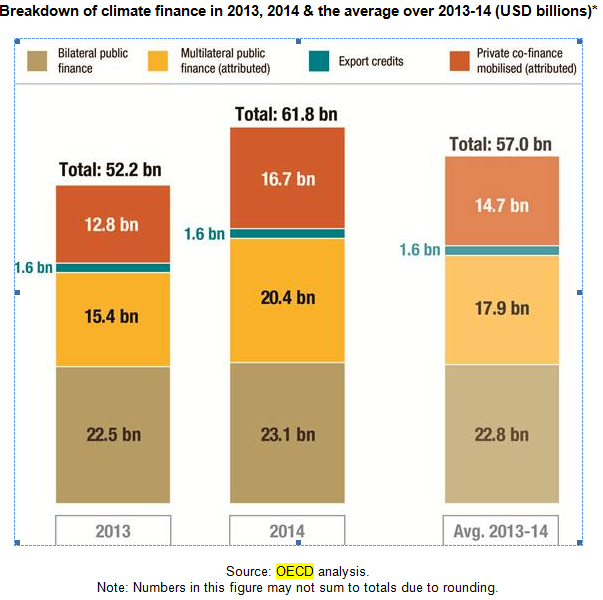 * The figure for bilateral public climate finance is based on an OECD survey of what developed countries expect to report to the UNFCCC in January 2016.
* The figure for multilateral public climate finance comprises funds sent through the six major multilateral development banks and key climate funds.
* The mobilised private flows (USD 14.7 billion) are approximately half through bilateral and half through multilateral channels.
* The climate-related export credits are predominantly for renewable energy.
By Ben Garside – ben@carbon-pulse.com