European carbon prices dipped in extremely heavy trade on Friday to post a weekly 2.5% fall, with much of today's volumes done on the EU Allowance time spreads.
The front-year EUA futures ended the day down 4 cents at €7.45, after plumbing a new nine-day low of €7.42 in late afternoon trade and dithering in a narrow 8-cent range.
Activity appeared brisk with more than 55 million units traded over all EUA futures contracts on ICE, the highest level in weeks, but a closer inspection revealed much of it was limited to spread trades, with nearly 13 million transacted between the Dec-15s, Mar-16s, Dec-16s and Dec-17s.
A further 2.5 million was posted in what appears to be a spot-Dec18 spread trade done EFP on ICE, while a massive 20.4 million was bought and sold in block trades on the Dec-16s.
"It looks like some people are positioning themselves ahead of an outcome to the Greek crisis," one trader said.
Greece got what may be a final lifeline in the form of additional ECB funding for its banks on Friday to help them cope with a deposit drain in the run-up to an emergency eurozone summit on Monday, which could determine once and for all whether the country can remain in the monetary union.
Other traders were sceptical over claims that the escalation of the Greek crisis was having a direct effect on EUA prices.
"You can always make an argument for (these links) it in the absence of other stuff," one trader said, referring to a recent lack of other strong fundamental influences for carbon.
He added that Friday's volumes could be "someone's flow business that they wanted to do now" while volatility remains low.
Large spread trades can also indicate market participants are rolling their positions forward to future vintages, but the second trader said he would be surprised because this is normally a phenomenon seen in the fourth quarter, closer to the Dec-15's expiry.
TECHNICALS
The Dec-15 EUAs this week further consolidated within a 'pennant' technical formation (see chart), with the upper band aligned with resistance levels around €7.65, which prices tested over four consecutive days beginning last Wednesday but failed to breach.
Pennants are formed during periods of consolidation, and typically end when prices emphatically break out either to the upside or the downside.
Following the contract's final attempt at breaking through the €7.64 barrier, prices receded on the back of speculators unwinding bets and as Greek concerns mounted.
According to traders, technical resistance levels are now seen between €7.40, which is the lower band of a trading channel built up since mid-March, and €7.37, which is marked by the pennant's lower edge as well as a June 8 trough – the lowest level touched in nearly three weeks.
"If we break below that, then it doesn't look pretty," the first trader said, calling the next resistance level at €7.18, which is also the contract's 38.2% Fibonacci retracement level.
"As long as we stay above €7.18 then we're still in an uptrend because we're making higher lows. However if we go under, then you've got a 50-cent downside opening," he added.
Both traders also cited weak utility demand as a main reason for why prices were stagnating around current levels instead of rising, as predicted by analysts following agreement by lawmakers over the MSR and the ongoing reduction of EUA auction volumes through backloading.
Friday's German spot EUA auction underwhelmed with 3.2 million units sold for €7.41 – a discount of 4 cents to the market at the time the sale closed.  The auction attracted bids worth just over 7 million allowances.
Governments will next week sell a total 15.1 million EUAs, returning to higher levels after they monetised just under 12 million this week.
Meanwhile, German calendar-year baseload power rose on Friday, helping to lift clean dark spreads for coal-burning utilities in that country to their highest levels since last week.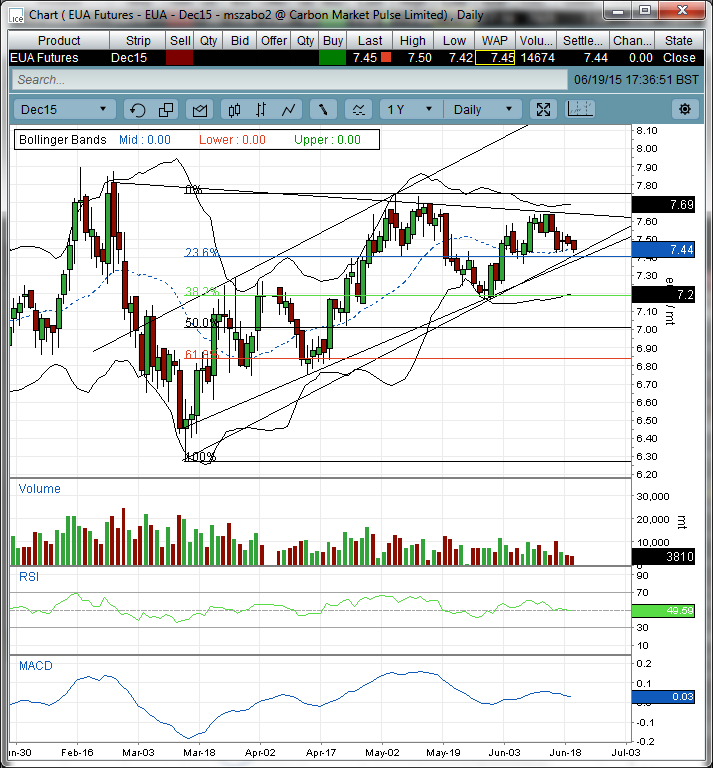 Implied EUA carry trade annual returns
German clean dark spreads
Dec-15
Dec-16
Dec-17
Dec-18
Cal Yr
Price
Wk chg
Spot
0.832%
0.985%
1.123%
1.365%
2016
€4.10/MWh
+0.08
Dec-15
1.075%
1.202%
1.452%
2017
€3.62/MWh
+0.02
Dec-16
1.330%
1.653%
2018
€3.35/MWh
+0.18
Dec-17
1.969%
(based on 36% efficiency factor)
(does not include transaction costs)
By Mike Szabo – mike@carbon-pulse.com