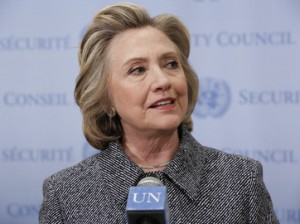 If elected US president, Hillary Clinton would launch negotiations with Canada and Mexico on a North American climate compact that would build on the Clean Power Plan and regional emissions trading schemes, she said Wednesday.
The pitch was part of her approach to modernising energy infrastructure in the region, the Clinton campaign said in a fact sheet.
The compact would include ambitious national targets, coordinated policy approaches, and strong accountability measures, and would seek to build clean power market, it said.
It would "[b]uild on the momentum created by the Clean Power Plan, which sets the first national limits on carbon pollution from the energy sector, and regional emissions trading schemes in Canada, Mexico, and the United States to drive low carbon power generation across the continent, modernize our interconnected electrical grid, and ensure that national carbon policies take advantage of integrated markets."
But Clinton stopped short of saying she would seek a mandatory carbon market for the three nations.
California and Quebec have already linked their regional emissions trading schemes, with Ontario expected to join as well.
However, the EPA's Clean Power Plan is causing some headache for California administrators as to how it can make its carbon market compatible with the EPA plan, which is limited to the power sector and to the United States.
A common North American approach would help smooth out those issues.
In July, Clinton said she would increase the share of renewable energy in electricity generation by 2027 if she wins the 2016 election.
MIXED RESPONSE
Clinton's announcement was met with mixed responses from Canada, where candidates are battling to win next month's federal election.
"(We) established a new North American partnership on energy and climate change earlier this year. Canada's focus is achieving new tangible results through this new North American collaboration. We will not engage in presidential primary debates," the ruling Conservative party told Canadian Press.
But the challenging Liberal and New Democratic parties both welcomed Clinton's message.
"As prime minister, Tom Mulcair would welcome the opportunity to sit down with the presidents of the United States and Mexico to discuss how our countries can collectively reduce our impact on the climate," NDP senior adviser Karl Belanger told the newswire.
Clinton said she wanted to drive greater ambition in the fight against climate change, and her North American deal would include "coordinated targets for clean energy and cutting carbon pollution, internationally recognized reporting mechanisms, and a binding review process".
Canada's announced target to cut GHG emissions 30% below 2005 levels by 2030 has drawn international criticism for being too soft.
Meanwhile, the US has pledged a 26-28% cut from 2005 levels by 2025, while Mexico has said it will keep 2030 emissions 25% below BAU levels, a target that could be increased to 40% if certain conditions were met, such as putting in place an international carbon price.
By Stian Reklev – stian@carbon-pulse.com
Not yet signed up to CP Daily? Subscribe to our free newsletter here