Presenting CP Daily, Carbon Pulse's free newsletter. It's a daily summary of our news plus bite-sized updates from around the world. Subscribe here
TOP STORY
Fourteen EU environment ministers on Monday urged the European Commission to include 2050 net zero options in its upcoming long-term climate strategy and for the bloc to signal this year its willingness to up its Paris pledge.
EMEA
France's environment ministers are pushing for the EU's trade policy to be brought into line with the objectives of the Paris Agreement, in what many will see as a retaliatory move aimed at the US.
EU carbon prices drifted lower on Monday but remained above €15 amid a looming increase in supply.
ASIA PACIFIC
China State Council on Sunday released a raft of environmental policy orders, reaffirming its plans to establish a national emissions trading scheme by 2020 despite recent doubts, and giving environmental regulators more power.
South Korean CO2 allowances rose to a 3-week high on Monday as demand lingered ahead of the June 30 compliance deadline.
AMERICAS
Using greater amounts of carbon tax revenues to stimulate clean energy research and capital investment could bolster company economics and help gain support for greenhouse gas pricing, according to research published on Monday and coming on the heels of the latest US carbon tax push.
———————————
CARBON FORWARD 2018
Don't miss the 3rd annual Carbon Forward conference and training day – Oct. 16-18, 2018 in London.
Spend two days with top experts, players, and decision-makers from the global carbon markets as they address today's most attractive opportunities and pressing challenges. And join us for the EU ETS pre-conference training day organised by carbon market experts Redshaw Advisors, where you will learn how to effectively manage your carbon risk ahead of the looming overhaul of the bloc's emissions trading scheme.
———————————
Job listings this week:
Or click here to see all our job adverts
———————————
BITE-SIZED UPDATES FROM AROUND THE WORLD
Now, Japan – In the third article of a new series on how key emitters are responding to climate change, Carbon Brief looks at Japan. The world's third largest economy and seventh largest emitter of GHGs, Japan has now looked to incorporate more renewables and atomic power into the energy mix after the 2011 Fukushima nuclear disaster led to a shift away from nuclear energy and towards fossil fuels. Still, the government intends to build even more new coal plants.
Wherever I may foam – The UK-based Environmental Investigation Agency and the New York Times together confirmed that up to 70% of Chinese rigid foam production still uses CFC-11, with the factories' emissions of the ozone depleting substance having a climate impact equivalent to 16-20 coal-fired power stations. According to an EIA survey, eight companies in four provinces were using the chloroflourocarbons in production, despite a Montreal Protocol deadline for developing countries to phase out the substances by 2010. Experts had been trying to solve the mystery of from where the high concentration of CFC emissions was emanating. The Montreal Protocol's scientific assessment panel is slated to examine rogue emissions and report to national representatives by the end of 2018. (Climate Home)
Mission impossible – Germany will not be able to phase out coal-fired power production by 2030, said RWE boss Rolf Martin Schmitz, head the country's biggest power producer and Europe's biggest private emitter of CO2, in an interview with the Rheinische Post ahead of the first meeting of Germany's coal exit commission on Tuesday. He argued that the speed of Germany's power grid expansion and the growing share of renewables will determine when the last coal plant is taken offline. Existing coal plants should be considered a "bridge technology" and if policymakers wanted to "prematurely" end the use of coal, "they will have to put a price tag on that, which says how many jobs will be lost, by how much the power price will rise, and that companies might leave the country because supply security becomes more difficult." (Clean Energy Wire)
Tide turns – The UK has rejected plans for the £1.3bn Swansea Bay tidal power project, dashing industry hopes of Britain leading development of a new source of renewable energy and sparking widespread criticism. Ministers said the project, which would have been subsidised through household energy bills for decades, was too expensive compared with alternatives such as offshore windfarms and nuclear power. (The Guardian)
Power proposal – Arizona Corporation Commission member Andy Tobin issued a letter to fellow state regulators and the public last week regarding how the state will move forward in meeting an 80% clean energy standard by 2050. As part of a "Clean Peak Standard", utilities would deliver an increasing portion of their renewables during peak electricity demand hours to incentivise the uptake of storage technologies. A draft version of the rule to modernise the 2006 Renewable Energy Standard and Tariff, of which utilities have already met the 15% target, will be released on July 5. (Utility Dive)
And finally… Proven projections – Saturday marked the 30th anniversary of NASA climate scientist James Hansen giving a landmark speech before the US Senate energy committee on the dangers of climate change. While Hansen's predictions of future rises in global temperature weren't exactly on target, roughly two-dozen climate scientists told Axios that his main conclusions were right overall. In the 30 years leading up to Hansen's congressional testimony, global temperatures were on average less than 0.2 F (0.1 C) warmer than the 20th century average. Since then, average temperatures have risen six-fold.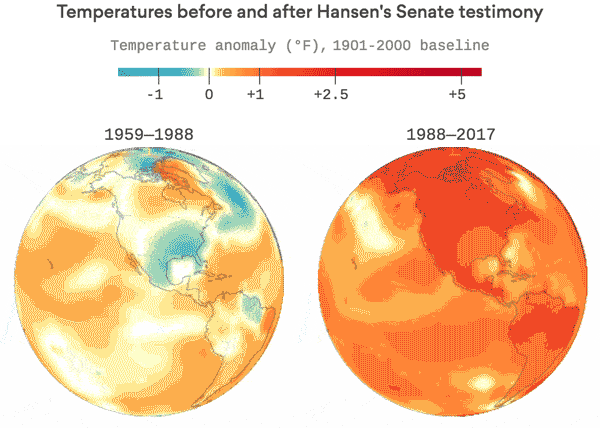 Got a tip? Email us at news@carbon-pulse.com