There needs to be greater urgency in private sector action if the world is to make improvements on biodiversity in light of the historic deal on nature positivity at COP15 in Montreal at the end in December, a webinar heard last week.
The event, hosted by US carbon marketplace NCX, discussed the challenges facing biodiversity, including measurement and lack of corporate action so far, though the picture may be changing, the audience heard.
Interest in biodiversity has surged in recent months following the landmark agreement at the UN's biodiversity summit in Montreal in December.
"Biodiversity and and environmental markets are finally having their moment on the heels of COP15," Spencer Meyer, head of science at NCX, told the event.
But webinar participants described the need for greater urgency from the private sector, especially given that a lot remains to be determined in the nascent biodiversity market.
"The private sector does not see a sufficient reason to act yet," said Sophie Gilbert, senior lead of nature capital at NCX, explaining why the world is so much further behind on biodiversity than it is on carbon.
"Perceived risks are low … and perceived responsibility seems to lie with governments to act. There should be a greater sense of urgency for the private sector."
One of the key reasons for the sluggish movement on biodiversity is due to the challenges with measurement, an issue raised by experts when comparing the market to the past decades of carbon finance.
"Action is lagging because we honestly don't know how to quantify biodiversity impacts – positive or negative," Gilbert continued.
"Currently the buyer pool is limited, and what makes a quality biodiversity credit not clear yet," she added, noting however, that there were several positive alliances trying to craft principles to help provide clarity.
It is expected that on a national level in multiple countries there will be incoming mandatory nature reporting schemes over the coming years for corporates, meaning that it is in the interests of firms to act now, Gilbert commented.
There are already several quick wins firms could do, such as turning off skyscraper lights during bird migratory seasons, that could yield significant results, while other measures will be on a more long-term timeline.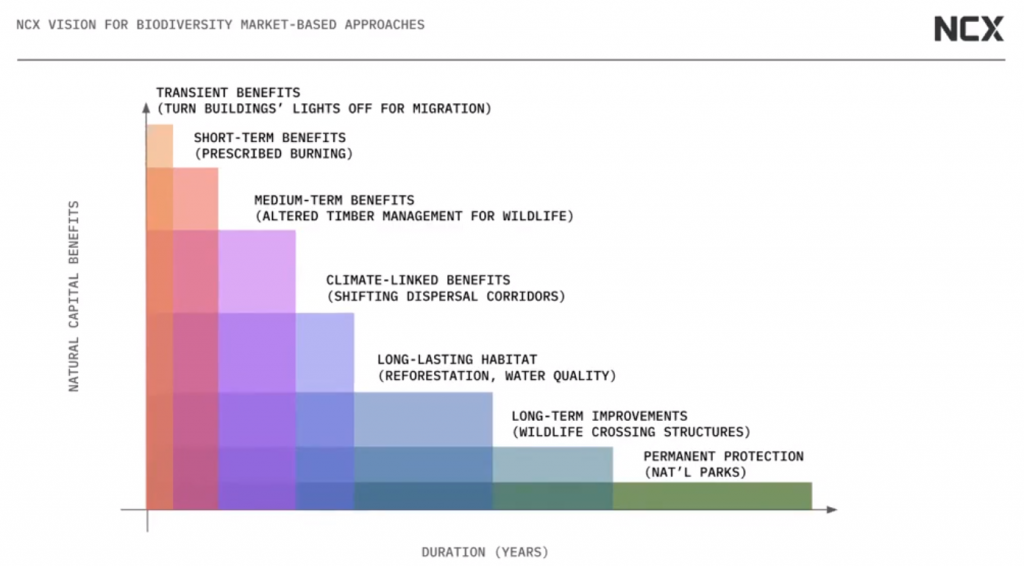 NCX confirmed that it is working on a pilot for forest bird communities first and then terrestrial small and medium animals due to easier data to collect and the urgency of acting.
"This is difficult stuff and we want to learn and improve in public," she said, adding that this would be open to feedback from stakeholders.
The firm said it would be sharing work "in coming months" with feedback welcomed.
MEASUREMENT
One of the main issues facing scaling action on biodiversity via a market mechanism is the need for better measurement, participants in the webinar argued, urging that biodiversity co-benefits should not just represent a box to tick alongside carbon, as well as the fact that you also shouldn't simply measure biodiversity in the same unit-focused way as is the case with carbon.
One case study raised during the webinar by Sarah Heard of the Nature Conservancy related to one of its projects in California by which the flooding of rice plains is extended by farmers via auctioned incentives to support migratory bird populations.
The rice farmers receive a direct payment from the organisation with the successful bids chosen using big data on bird populations to ensure the most effective use of the finance.
"So far, we have run 17 auctions and created 180,000 acres of bird habitat," Heard explained, adding that Californian bodies are now supporting the scheme to scale.
"In some cases we are combining multiple benefits," she added, referring to water saving in particular.
Heard urged the market to start with the conservation problem, rather than the market mechanism and then looking for the nature benefit.
"Accurate measurement and sound science are critical. It's really hard to create a market that is delivering benefits in nature if you don't have the foundational science in place or you can't measure those benefits," Heard commented.
"This is a messy process."
By Roy Manuell – roy@carbon-pulse.com
*** Click here to sign up to our weekly biodiversity newsletter ***